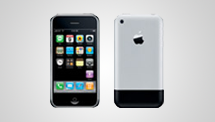 Thousands of websites are uploaded every day by thousands of business owners. When you look out for a website that you can install in your smart phone, you will have to search a lot and also check out its compatibility on the handset. Some websites are suitable to browse only on the computers while some others can fit-in well on to the screens of the smart phones. If you are amongst those who carry out their business deals and documentation on the smart phones, you will surely like to have sites that suit the handset. You might be having certain mobile design website but you might need to upgrade it for better functionality and ease of use. If you wish to design a mobile application or a mobile design website, you are just at the right place. IQ Microsystems are experts in Mobile Application Development and carry a special team to take up the Smart Phone Website Design projects.
Willing to update your smart phone by installing all new mobile applications and sites? Do you wish to install a new smart phone mobile design and let the handset function smooth and faster than before? We will get the job done for you in less time, at affordable rates and with latest technology! Our professional team will assure you to get the best and smartest application designed and developed in your smart phone. No need to use an outdated application in the handset. Instead, ask us for what's hot in the markets and get that application installed soon. We offer the best of Smart Phone Website Design solutions for businesses of all kinds, sizes and fields.
Our technology is latest and suitable for the smart phone that you are using. From iPhones to iPads, smart phones to androids, all of them can be upgraded with our mobile applications. IQ Microsystems offer best of Smart Phone Website Design solutions that are easily compatible on browsers like Windows Mobile, Iphone mobile, Blackberry, Android and others.
Our Smart Phone Website Design solutions are suitable for all smart phones and are featured with:
Best quality technology
SEO friendly mobile website designs
Easy accessibility and ease of use
Designs are designed by professionals and experts in the respective field
For installing the latest Smart Phone Website Design in your smart phone, count on us, IQ Microsystems!