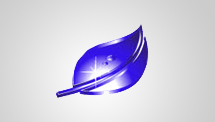 In today's fast paced world, you've only got seconds to catch a viewer into your website. A well-designed logo is the perfect tool to flash interest and convince visitors to stick around and see what you have to offer.
We at IQ Microsystems assist you in your logo designing project with something that would give you a corporate identity. Simply give us the details of your company and its services, and we will get back to you with a perfectly matching logo.
The first thing you need to do is determine whom you want to attract to your site. If you are looking for wealthy professionals you don't want something goofy and cute. Whether you are looking for something youthful and busy or simple and mature, you have to be aware of other logos.
A good logo manages to set you apart, with your corporate identity. Everybody knows the Nike logo. It suggests movement and speed and would be appropriate for any other sneaker company, but it belongs to Nike and we all think of the company when we see it. THAT's a good logo.
Attributes of a Good Logo:
Simple
Memorable
Timeless
Unique
Appropriate
Once you have an idea of who you want to speak to with your logo and what you want to say, you now get to consider the actual design and colors. When working with color using your instincts is a powerful tool. How does the color yellow make you feel? Or black? Odds are, colors affect you the same way they affect others.
Here's a quick guide to the magic of color:
Black is bold and Severe
White is crisp and clean
Green is the color of bounty and health
Blue is stable and authoritative
Yellow is youthful and optimistic
Orange is fun and warm
Red is vital and passionate
Purple is spiritual and regal
The same thing goes for shapes. If you are a personal trainer, you don't want a logo that features a caricature of yourself made out of large, round circles. A parallel to being out of shape comes to mind and that might turn off your potential clients. More stable shapes like triangles would help create a more trustworthy atmosphere; a place where people can believe what you're trying to sell.
Having a good logo design can make or break your website and your business. This piece of art is your first opportunity to communicate with your audience and can lead to clients, customers and lasting working relationships.
Just like our Mobile Application Development services, we at IQ Microsystems offer the best in Logo Designing services as well to let your company receive a corporate identity.