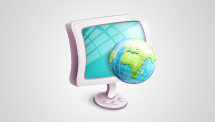 Our experience, better skills and interest in custom database development and custom web programming will benefit you for your business' application development project. IQ Microsystems tried-and-true methods span the arc of your project, giving you and the customer, the best value for each dollar you spend. Give your website the dynamic edge with our help, to help your business compete successfully.
IQ Microsystems experience and ever developing skills with web apps has allowed us to offer you with wide-ranging tools to turn your design notes into full-blown web applications, through a large variety of technical disciplines - open source, proprietary systems, and everything in-between.
To turn your web application dreams into reality, we use, amongst others, the following technology:
PHP
MySQL
MSSQL Server
erisign Payment Processing
At IQ Microsystems, we make your website grow into more mature roles, allowing you reduce on your marketing budget, create new revenue streams, and retain customers with greater ease and efficiency. Whatever you needs are, we have the capacity and skill to do it, and to do it without costing you even a single penny.
Make your online presence spot lighted by letting us help you with:
Database Design and Development
Legacy System Integration
System Upgrade and Migration
Customer Service Systems
Feedback and communications Systems
Community Features - Forums &
Online Ordering and e-Commerce systems
News and Announcement Systems