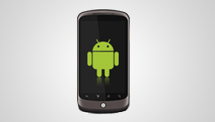 Are you a business owner and do you operate the day to day dealings on your Android? You might be a part of industries like Healthcare, Education, Utilities, Social Networking, Travel, Weather, Entertainment, Lifestyle or any other, if you wish to navigate your business deals through your Android, you need to have the best of Mobile Applications installed in your device. For any of your Android Application Development needs, you can stop your search at IQ Microsystems. We have been working as a Mobile Application Development service provider since quite a while now and we have many satisfied clientele under our belt.
If Android is your gadget for taking care of the business while you travel, are you satisfied with the applications that are installed inside? Do you wish to update or install a new application in to your Android phone so as make the business deal management easier? Be with IQ Microsystems and get the applications developed and designed as you want them. For your Android Mobile Application Development, we can be your first choice.
IQ Microsystems offer the best of Android Application Development services with respect to
Business Application Development
Custom Application Development
Social Networking Sites Application Development
Utility Application Development
Internet Application Development
Android Mobile Application Development
Messaging Application Development
Communication Application Development
Mobile Security Application Development
No matter what kind of mobile application you wish to have for your Android phones, we at IQ Microsystems will design it for you. We have an experienced team of mobile application developers to take care of your applications. Whether you wish to design a new application or upgrade the older ones in your Android, we make it happen.
Managing the business on smart phones iPhones, iPad, Androids or even on BlackBerry has become a common trend today. These smart phones are user friendly and offer a kind of flexibility for the business owners to take care of the business. These small looking smart gadgets have turned out to be the best care takers and movers of your business. By installing the best technology mobile applications in these smart phones, Androids, your business management can be a simple task.
Let us know what application we need to design for your Androids and we will revert back with the best possible ones.