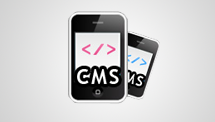 So many smart phone browsers and the android users look out to upgrade the content and design of their mobile applications. So as to remain in the business competition it is important to keep the business gadgets updated. If your smart phone, android or the iPhone, iPads are frequently used for business deals, they need to be installed with latest mobile applications from time to time so as to meet the market trends. Are you worried about the low quality and outdated mobile application that is installed in your smart phone? Do you wish to install a design that is latest and best in markets? IQ Microsystems offer you what you want for your smart phones, latest mobile applications. 
If Mobile CMS Website Design is what you are looking out for, for your smart phone, we promise to fulfill your requirements. Today thousands of business owners utilize mobile content management systems for their personal business that is set up online. Making changes in the content or updating it with some images from time to time is the need of the hour so as to be presentable and keep the business updated.
You might like to install a new Mobile CMS Website Design for your smart phone or might just wish to update the existing one. IQ Microsystems make sure that whatever Mobile CMS we offer is compatible with your handset, whether it is a
Windows mobile
Iphone
Android
Blackberry
A team of experts at IQ Microsystems specially work for the Mobile CMS Website Design solutions to meet the custom Mobile CMS needs. We use flexible CMS to design the websites for your smart phones so as to offer you complete self-sufficiency over the site. We research the best of Mobile CMS available and check out whether it is suitable for your smart phones before developing and installing them.
With our Mobile CMS Website Design for your smart phones you can easily modify the
Pages in the website
Images and links
Blocks and texts
Texts in headers, footers, titles, content
IQ Microsystems offer best of Mobile CMS Website Design solutions for your smart phones that help control and maintain every feature of the website.