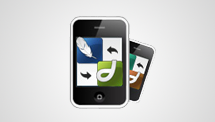 If Mobile PSD to xHTML Conversion is your need for your smart phones like Android, Blackberry or iPhones, you are at the right place, IQ Microsystems! With us you can receive the best of Mobile PSD to xHTML Conversion solutions from a group of professionals. Get the best application designed from us for your smart phone and upgrade it now! Our designers assure using high quality technology for your smart phones and promise delivery on time! When you need to use your smart phone for your businesses, you need to keep the device updated with latest technology applications.
Any application that you wish to install in your mobile should be compatible with the device. We offer mobile application development services along with Mobile PSD to xHTML Conversion solutions that work perfectly for Androids, Blackberry, iPhones, iPads and other smart phones.
With IQ Microsystems you can install all new quality websites that are suitable for the mobiles. For every Mobile PSD to xHTML Conversion template that IQ Microsystems offer, quality and smart designs are assured. We offer simple conversion solutions for any smart phone that you use for your businesses. If you wish to be on top of the ladder of competition and stay on top in the game, you need to have the best of mobile applications. As far as the Mobile PSD to xHTML Conversion for your smart phones is concerned, our team uses codes that suit your handsets. A fancy changeover effect with flexibility is what we put forward with the conversion.
If you wish the Mobile PSD sites and designs to be converted in to xHTML codes for better functionality and use through the smart phones, simply send us your files. Experts from our end will convert the files easily irrespective of how small or big they are in size. Simply hand over the files for conversion to us and let us take care of the coding. We assure you to deliver the final conversion file without any limitations in quality. They will be pixel perfect!  
For your Mobile PSD to xHTML Conversion requirement, IQ Microsystems are ready to take efforts. You just use the end product that we deliver for your businesses through your smart phones.